Welcome to Luxury Limousines, Ltd.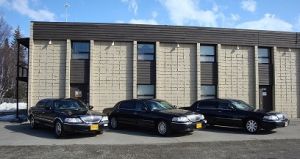 Whether you need an airport pickup and transfer, a shuttle or taxi, a chauffeured luxury sedan or a stretch limousine for a special occasion, Luxury Limousines Ltd. has a variety of different cars and services to meet your needs in Anchorage and throughout the state of Alaska.
Let us find you the right Limo in Alaska
We specialize in luxury Sedans, SUV, Vans, Limousines of diffrent sizes, and Motor Coach charters for corporate travel, airport service, proms, weddings, cruiseship transfers, and statewide tours. We offer only the best drivers in the industry at the wheel of our vehicles.
The next time you need a luxury vehicle, think of Luxury Limousines Ltd. first. We guarantee that you will enjoy our competitive prices, luxury vehicles, and professional service. Luxury Limousines has enjoyed rapid growth throughout the State of Alaska, by setting new standards for customer service and confidence.
Our customers are assured of late model, clean and reliable limos and vehicles. They are transported by drivers who are familiar with local areas, as well as regional destinations throughout Alaska. Best of all, our price remains competitive!